Metal braces are not the only option for patients who want to straighten their teeth. At 61 Dental in Stockport we believe that subtlety is key when it comes to adult teeth straightening, which is why we offer both fixed and removable orthodontic appliances that are highly discreet – as well as highly effective.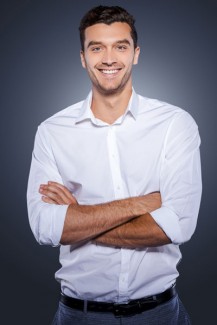 Lots of adults dream of straighter teeth, but many are put off by the thought of having to wear metal "train-track" style braces. However, 21st Century orthodontics are designed with discretion in mind, meaning that it is now possible to improve the alignment of your teeth without a glint of metal in sight. What's more, many of these appliances work far more quickly than traditional braces do, too.
Stockport braces and aligners
Come into 61 Dental Stockport for a teeth straightening consultation and your dentist will conduct a thorough clinical examination to determine the type and amount of correction you need. This will determine whether fixed braces or removable aligners will be the best treatment option.
Depending on your clinical situation, your Stockport dentist may recommend:
Quick Straight Teeth
Quick Straight Teeth are braces with a difference; although they are fixed to your teeth for the duration of treatment, few people will notice them because they comprise clear brackets and tooth-coloured wires. This means they will be largely invisible in day-to-day life.
These braces also act far more quickly than their metal counterparts. Again depending on your clinical situation (the type and amount of straightening needed) typical treatment times with Quick Straight Teeth braces are between four and 24 weeks.
Inman Aligner
A reliable alternative to fixed appliances, the Inman Aligner is a single appliance that works very quickly to correct issues with the front teeth. This aligner can be used to treat crowded, crooked, or protruding front teeth, as well as cases of adult relapse.
Invisalign
For more extensive correction, our Stockport dental practice also offers treatment with Invisalign. This treatment involves the use of a series of clear, removable aligners, which gradually move your teeth into a better position. You change your aligner every fortnight as your teeth move.