Are you an adult who would like straighter teeth, but don't want to have everyone commenting on your dental journey for months on end?If so, you'll be glad to hear that you can have the teeth you've always wanted, without the attention you don't want.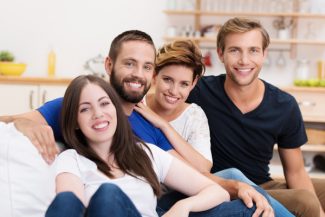 If you are based, or work, in Stockport, braces are available from 61 Dental, conveniently located in Church Road, Gatley and open every working day, except Fridays after 2.30pm.
We offer an almost invisible method of teeth straightening called Invisalign.
When you come to see us for braces in Stockport, we can give you detailed information during your free consultation. For now, here is an overview to help you get to grips with the basics:
How Invisalign aligners work
Invisalign clear aligners differ from the more well-known bracket and wire braces systems. Aligners are transparent plastic trays, rather like mouth guards, which slide snugly over your teeth. These trays are so thin that it is almost impossible to see them.
Each patient has aligners made specifically for them, from impressions that we take here and then send off to the Invisalign laboratory in the USA. The lab also uses information sent by us to calculate the path your teeth need to travel along to reach their required alignment. The laboratory makes an aligner tray for each step. Each one is slightly differently from the previous one, marking another step along the journey your teeth will take. The pressure created from each slight change in your aligner design is what nudges your teeth along their path.
You need to wear each aligner for about 2 weeks before moving on to the next one. You will need somewhere between 12 to 48 aligners, depending on your specific needs.
In Stockport, braces for adults have another great benefit. Invisalign aligners are removable. This makes them much easier to keep clean and that goes for your teeth too. The aligners should, however, be worn for at least 20 hours a day, every day, for the quickest results. You can however leave them off entirely for a few hours if you have to attend an important social or professional event.