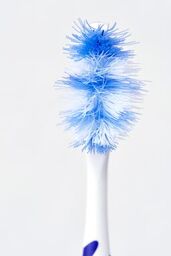 When was the last time you changed your toothbrush?
If you're still thinking about the answer, it was probably too long ago! Did you know, it is recommended you change your toothbrush every three months in order to ensure its working its best?
Of course, if you use an electric toothbrush, you just need to replace the head for a fresh one.
Ask Santa!
With Christmas and the New Year fast approaching, we thought it would be a good idea to mention new toothbrushes, because there's still time to ask Santa for an electric toothbrush in your stocking. We always recommend these to our patients, because they are so efficient at removing plaque and leaving your entire mouth feeling super clean. This, of course, is hugely beneficial for your dental health, helping you to avoid any big problems further down the line.
If you have a cold, or any other bug, before the magic three months is up, we advise changing your toothbrush once you're better. This prevents you becoming sick again, because your toothbrush could potentially harbour some of the nasty germs.
Here at 61 Dental in Stockport, we are always more than happy to discuss toothbrushes, the best type for you, and provide you with useful brushing techniques too. All of this can help you get the most out of your two minutes, twice a day, putting you on the path towards superb dental health, which is something we love! Just ask us at your next dental check up.
We're closing for Christmas on Friday 22nd December and reopening on 2nd January 2018. We will be open on the mornings of 27th, 28th and 29th December (10.00am – 1.00pm) for any emergencies. If you have a dental emergency while we are closed please just call the practice number 01614282447 where you'll find all the information you need to seek treatment.
We look forward to welcoming you to 61 Dental very soon, in the meantime, have a wonderful Christmas and New Year!