Would you like to straighten your teeth but the thought of having conspicuous metal braces is holding you back? If the answer is yes, then we have alternative solutions for you.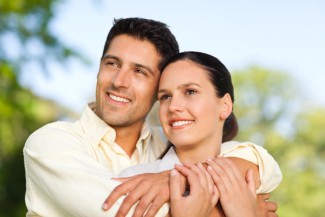 Nowadays, when it comes to teeth straightening you have a lot of different options besides metal braces. At 61 Dental in Stockport, we appreciate that fixed metal braces are not particularly well-suited to a professional adult lifestyle. That's why we are pleased to offer more discreet treatments for aligning your teeth.
Explore your options for aligners and braces in Stockport
At our Stockport dental practice we offer Invisalign clear aligners and Incognito lingual braces. Both treatments have their advantages and are suited to different types of tooth misalignment. Here's a quick look at what each of these subtler solutions for teeth straightening have to offer.
Invisalign
Invisalign straightens your teeth using a custom-made series of clear aligners.Your dentist will carefully plan out how each aligner will shift your teeth along to their final straighter positions.Wearing the aligners and replacing them ever two weeks, will gradually move your teeth into place.
Invisalign is removable, which means the trays can be taken out for eating, drinking and cleaning your teeth. Invisalign can treat gaps between your teeth, moderately crooked and crowded teeth as well as cross bites. However it can not treat the most severe cases of tooth and jaw misalignments.
Incognito
Incognito braces, also known as lingual braces, are one of the most discreet teeth straightening treatments available today. They are fixed on the tongue side of the teeth, virtually out of sight. Similar to metal braces, they are connected by a wire that helps move your teeth into their final positions.
Incognito braces may require longer treatment times compared to ceramic or traditional braces.Treatment can take anywhere from 18 to 36 months. These braces can treat a wide range of issues, but are not appropriate for every dental condition. Our experienced dentist will help you determine whether this treatment will be the most effective one in your particular case.
Find out more
To learn more about your unique dental needs and your treatment options with braces in Stockport, please get in touch with 61 Dental today.