Do you feel self-conscious about your smile? You are not alone. At 61 Dental, we appreciate that it can be embarrassing to smile if you have crooked teeth. This can happen for a number of reasons, from natural changes in your jawbone as you age to previously straightened teeth shifting back to their former crooked positions..
At 61 Dental, we are happy to offer Invisalign cosmetic braces and other discreet teeth straightening treatments for adults. While traditional braces may be the only solution for a few patients with serious dental issues, Invisalign clear braces in Stockport can help you achieve a straight, beautiful smile without the need for metal braces.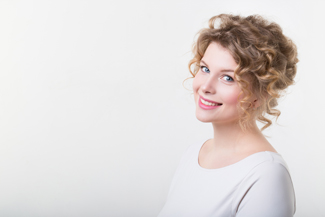 What is Invisalign?
Invisalign is a modern teeth straightening system, which consists of a series of transparent, removable, plastic trays. Your dentist will provide you with a new set of aligners every 2 weeks and although you can remove them for eating and cleaning your teeth, you have to wear them for at least 22 hours per day. You will likely need to wear the aligners for 6 to 12 months, but each case is different. Your Stockport dentist can determine how long you will need to wear the aligners.
Benefits of Invisalign, clear braces
The biggest advantage of Invisalign over other teeth straightening treatments is the discretion it offers. The clear aligners are virtually invisible, therefore, no one will ever have to know that you are having your teeth straightened.
More importantly, unlike traditional braces which are fixed, Invisalign braces are removable. They can be taken out for eating, brushing and flossing your teeth. As such, you can enjoy your favourite foods without having to worry about food particles getting trapped around the brackets and wires of metal braces. Finally, treatment with Invisalign is easy to fit into a busy schedule, since you will only need to visit your dentist for a quick check-up once a month or so.
Is Invisalign right for you?
Generally, if you are a teenager or adult with healthy teeth and gums, you are probably eligible for Invisalign treatment. If you are interested in Invisalign clear braces in Stockport, contact 61 Dental today, and our experienced dentists will guide you through your treatment.