Cosmetic dentistry can fix a number of aesthetic issues affecting the shape, colour and size of your teeth. It can improve the look of dull or discoloured teeth, address unsightly gaps between your teeth, as well as restore the appearance of chipped, cracked or severely worn teeth.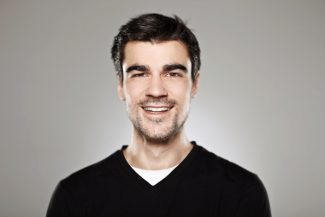 At 61 Dental, we are dedicated to giving you the smile you've always wanted using the various cosmetic treatments that our experienced cosmetic dentist in Stockport provides. No matter what state your teeth are currently in, we offer a comprehensive range of cosmetic dentistry options to transform your smile. Here are just two examples of the treatments we offer and how they can help you.
Teeth whitening
Are you tired of hiding your smile because you are worried about exposing your yellow teeth? Tooth discolouration can result from drinking coffee and wine, smoking or simply as a natural effect of ageing. At 61 Dental, we offer two popular teeth whitening services to help you restore your pearly whites: at-home and in-clinic professional teeth whitening.
At-home teeth whitening can be completed within one or two weeks in the comfort of your own home, with the aid of whitening trays and a bleaching gel. In-clinic teeth whitening with Zoom technology can whiten your teeth by up to several shades in less than an hour. Both treatments are safe and effective when carried out under the care of our cosmetic dentist in Stockport.
White fillings
Dentists have traditionally used metal fillings to treat cavities. These fillings are notorious for their unattractive colour. You can now replace your old metal fillings with white composite fillings. With our cosmetic dentist in Stockport, white composite fillings will blend into the background of your teeth for a more natural look. This is because they can be colour-matched to your existing teeth.
Contact us
At 61 Dental in Stockport, we are always eager to answer any of your questions about our cosmetic dentistry services. Simply give us a call or send us an email. We look forward to seeing you at your first consultation, where we will listen to your dental needs and expectations. Working together, we can help you achieve the smile you've always wanted.